What are passive houses?
A passive house or a passive building is one of the most beneficial for the portfolio of large investments. It is characterized by passive use of energy from outside. This means that the building materials that have been used and applied during the design process allow for huge savings, e.g. in terms of heating.
According to the European Union standards, a cheap passive house is a house with a heat transfer coefficient U<0.2 W/m2 – K and energy demand is 15 kWh/(m2 – year). Together with other wise investments such as solar panels and collectors or the most modern water and sewage management systems, it creates not only an energy-saving but also a fully ecological space for living and working.
M3 Technology System
The technology used in the construction of the passive house by StyroFoam was invented and patented by M3 System. It is distinguished by its innovation and parameters related to tightness, tested by scientific centres. The tightness of the buildings is only n50=0.42[l/h] at minimum required by the Polish Institute of Passive Building n50=0.6[l/h]!
The supporting structure of the object is cement combined with glass fibre – one of the most durable building materials. The insulation is styrofoam – XPS styrodur combined with styrofoam, whose thermal insulation parameters, compression and compression resistance as well as water absorption, fire resistance or even ease of storage and assembly make it the best way to insulate the building – already from the foundations. Such a system eliminates thermal bridges and places from which heat could "escape" in the future, generating high bills.
Each of the elements is welded together on site. Owing to their low weight and ease of joining, modern passive housesare built quickly and efficiently. The construction of a building by Styrofoam is possible in just two months – so it is worthwhile to get to know the offer.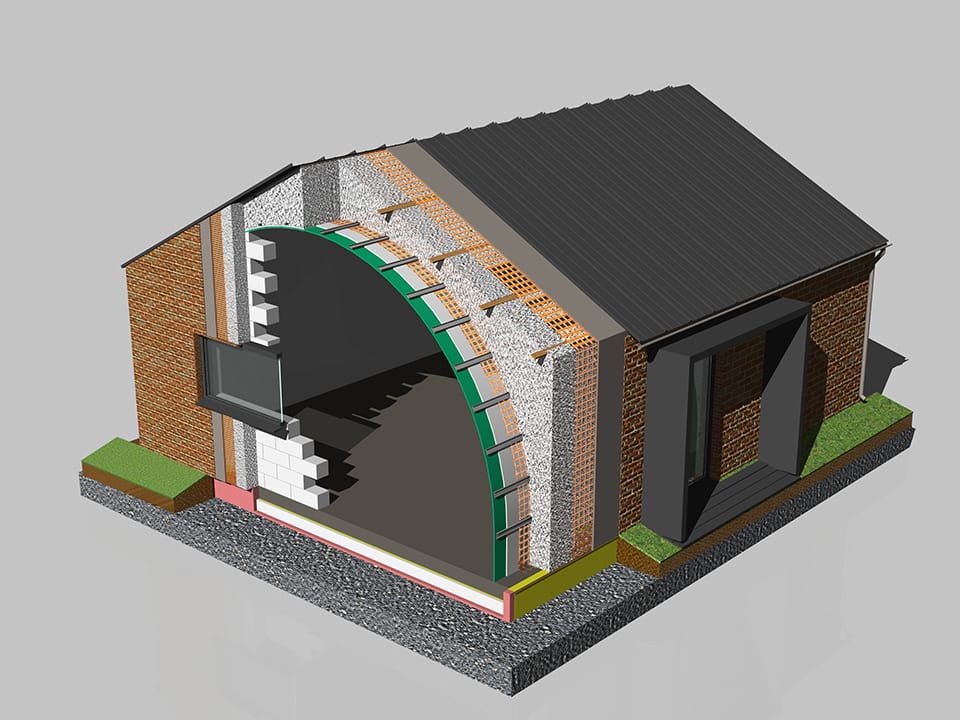 Technical specifications
Styrofoam passive houses are built according to specific and unchanging rules appropriate to the project and shape of the building. By combining the structure through a fiberglass mesh with a double-reinforced concrete foundation slab, it is possible to achieve the stability of the building and its resistance to the building's own weight and variable loads related to weather conditions.
The body is self-supporting and geometrically unchangeable, so passive buildings can stand on a variety of grounds. It is worth knowing that the sum of all loads acting on the walls is much smaller than that of the foamed polystyrene used to build them. This results in a large and safe load-bearing capacity reserve.
Partition walls of the building are light and fire-resistant system walls of steel construction, filled with mineral wool, with plasterboard lining. In hygienic and sanitary rooms, however, double-boarded walls are used – made of the mentioned plasterboards and hydrophobic panels. The gable wall, on the other hand, because it closes the structure, is made of blocks of cellular concrete, with polystyrene insulation.
Interestingly, StyroFoam passive houses do not have a traditional roof truss. The roof covering is made of coated sheet metal fixed on a polystyrene slope and is based on the body of the building. Therefore, the walls literally pass into the roof.
A modern passive house like any other must have installations. These water and central heating systems are distributed in the floor. Ventilation and recuperation is in turn located in the underroof zone. Finally, the electrical installation is placed in the partition walls.
The most important technical parameters are
– heat transfer coefficient of external partitions of 0.09 W/(m2K);
– heat transfer coefficient of window joinery of 0,9 W/(m2K);
– Heat load in relation to building surface: 30 W/m2;
– Thermal load in relation to the volume of the building: 12 W/m3.
These numbers generate real and easily quantifiable benefits. So it is worth finding out why Styrofoam and the passive house constructed by the company will be a hit!
Requirements relating to the plot of land
Both the single-storey passive house and other such buildings should be designed with the best possible use of the land in mind. The requirements for an ideal plot, allowing for even greater savings, are:
– Flat area (possibly with a slight slope);
– Rectangular shape;
– Area facing south;
– No pond, lake, river;
– No trees that cannot be felled;
– No tall buildings and plans for such a neighborhood in the future;
– Location not on the edge of a forest, near a hill or mountain slope.
Interestingly, although a pond or river may make it difficult to build a passive house, it is possible to build it directly on water!
Passive houses on water
Land prices are constantly rising. However, few people – due to potential flooding or faster cooling of buildings – want to carry out investments in the vicinity of a water body. Meanwhile, the technology offered by Styrofoam allows to build a building directly on the lake!
It is a great idea not only for a dream house in a romantic location, but also for an original restaurant or hotel on the water. It is worth learning more and establishing contact with qualified Styrofoam employees!
Industrial buildings
Passive technology is an excellent solution not only for private investors. It is also possible to build industrial buildings, including halls – even such specialized ones as cold stores.
Styrofoam's projects also include passive office buildings and retail and service facilities. Such an investment is a great way to save money in the future, reduce fixed costs and consequently gradually increase profits from sales!